GrooveFunnels In-depth Review
Build Better Websites & Funnels with GrooveFunnels
Groove Funnels is having many apps in an All-In-One Platform for Digital Marketers and Social Media Marketers and is used for you to run your entire online business.
Please read through my review before selecting it, to evaluate the strength and weaknesses of it. Is it worth your time, effort and cash?
GrooveFunnels– Product Overview
Product name: GrooveFunnels
Vendor: Groove Digital
Founder: Mike Filsaime
Product price: Freemium(Limited options) and $1897(Lifetime Deal for Limited time)
Official Website:GrooveFunnel
Support: Reputed Vendor, Fast and Effective Support Team
Bonuses: Yes, Exclusive and Special Bonuses
Refund: Yes,30 Day Money Back Guarantee
Mike Filsaime( is behind some of the digital marketing tools in the market, WebinarJam, EverWebinar,Kartra, Deal Guardian, EvergreenBusinessSystem, PayDotCom, as well as Butterfly Marketing.)

Watch the Top 10 Reasons You Should Build Your Business On GrooveFunnels
What is GrooveFunnels?
Are you looking for a review of GrooveFunnels? Right now there's a huge buzz around this company of GrooveDigital because they are giving away free lifetime accounts to GroovePages and GrooveSell.Which is perhaps the biggest perk of GrooveFunnels.
In this GrooveFunnels review, I will walk you through the different GrooveApps.
Hey, Imran Maroof founder of shaanreview.com here and in this post I'm going to give you my take on a brand new platform called GrooveFunnelswhich also has a suite of other services and products all built into this one system.
In-depth review, I will explain the Groove Funnels features, pros and cons and many more.
GrooveFunnels is having many apps in an All-In-One Platform:
" If your business is not on the internet, then your business will be out of business"

Bill Gates
Apps Include:
GroovePages
GrooveSell
GrooveAffiliate
GrooveMail
GrooveMember
GrooveVideo
GrooveWebinars for Live Webinars
GrooveWebinars for Automated Webinars
GrooveBlog
GrooveDesk
GrooveCalendar
GrooveSurvey
GrooveQuiz
— Unadvertised FREE Bonus —
Get GrooveFunnels For Free!
Limited Time Offer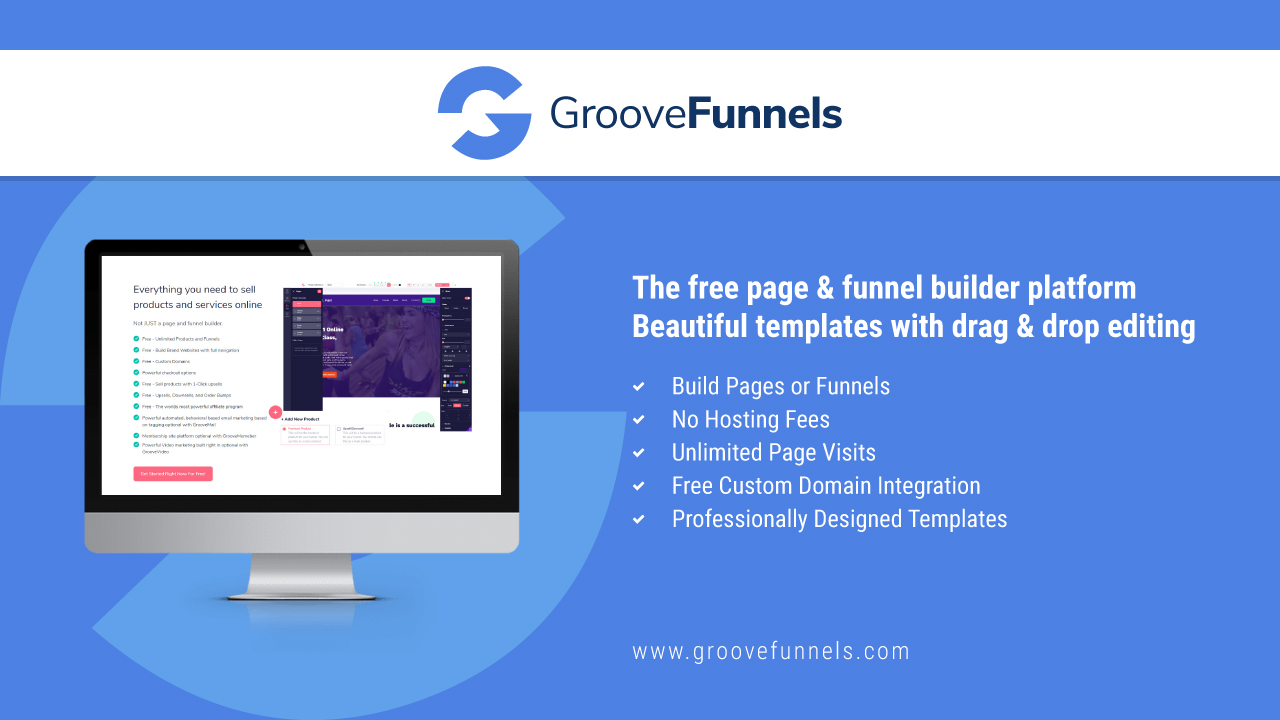 Get Started With GrooveFunnels Reviews
GrooveFunnels Review- Check Out Some Of The Amazing Features And Benefits
GrooveFunnels: Imagine GrooveFunnels like a box which has different things inside the box and these things inside the box are the tools so you just imagine like shovels and you don't know hammers.
Tools that you can do something with inside this box these are tools and you need to use the tools to create something with.
So this is GrooveFunnels is a suite of apps which holds all these tools that are interconnected that communicate with each other.
For example for your marketing you can build out your websites you can create your products that you will be selling on your website you can create a membership site that you will connect to your website that you can connect to your product.
So this is an integrated suite of apps that will be working together to achieve a goal of making you successful sales running your business getting your marketing and your basic products promoted online.
And GrooveFunnels is a one-stop-shop for successful marketing and successful online business this is the definition
Groove Funnels are a product that has all tools which are required for online marketing
I mentioned GrooveFunnels has tools inside but let me just show you what the tools are.
GroovePages:
This is a landing page, website & funnel builder.
GroovePages for building out pages and landing pages and funnels this is more of a design tool that can replace click funnels or WordPress and tools like Divi Theme, Elementor or Thrive, Architect,
GroovePages is a page builder with an easy drag and drop interface. This enables you to build out funnels and landing pages in just a few minutes. Build and host unlimited funnels (or websites with navigation) with Google Mobile Indexing First. The platform has been build with SEO.
GroovePages also comes with Pre-Built themes and templates that you can choose from and you can use to get started quickly. You can Import Funnels With GrooveFunnels and Able To Share Funnels with others (just like a Google Doc).
PRE-BUILT THEMES AND TEMPLATES
Do Pages Build With GroovePages Load Fast (And If So Why)?
Yes, because unlike systems like ClickFunnels, They publish your HTML page to the web. Which means your site actually exists on the web. A site like ClickFunnels needs to render your site every time the page loads. This means you'll need to worry about uptime as well as slow load times.
This can affect your SEO and Ad costs. The page load faster (or as fast as any page on the Internet). GroovePages use only the latest "Mobile-First Indexing" by Google. They are the ONLY leading brand to do this.
The pages are hosted on Amazon servers, which are the best servers money can buy and you get FREE SSL included. They put everyone else to shame when you look at what we give you!
Is GroovePages SEO Friendly?

You bet! Literally no other page builder builds a lighter, more perfect code. Of course, They have Open Graph, Site and Page SEO Title and Meta tag settings. They also include Image Alt tags, perfect DOM container structure, H1 through to H5 tags and paragraph tags.
Your pages will be "works of art" which will be loved by Google. Period. No one else can make this claim. You have to see it to believe it!
What Is Such A Big Deal About GroovePages Being Compliant With Google's "Mobile-First Indexing?"
They use (and are the FIRST and only company they are aware of) which can build websites, pages and funnels. Mobile-first indexing means Google will now ONLY use the mobile version of your page for indexing and ranking.
So in a nutshell, if your pages are not built this way, kiss your search engine rankings goodbye. Google talks about it here. But They have mastered this and included it for you, so don't worry (unless you're using something else of course).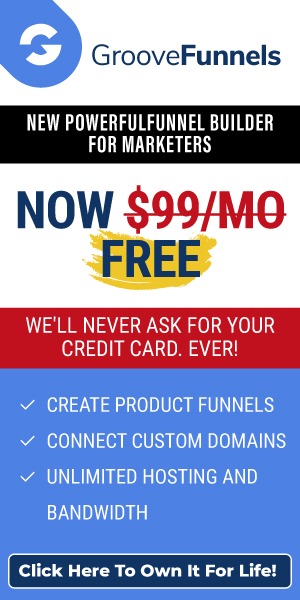 GrooveSell
GrooveSell – It's a digital sales platform. Sell digital products online through GrooveSell Shopping cart
The Groovesell is the place where you will set up the digital product, GrooveSell is the Powerful sales platform, Affiliate platform to help you sell your digital products and services online and the shopping cart option.
You will not be charged to sell products, you'll pay a fee for taking payments only, but other than that there no additional costs. As I Said GrooveSell there are no fees whatsoever. They're not like PayKickStart, SamCart or others. They're just free.
Groove Sell compares to similar to PayKickstart & Thrivecart but GrooveSell will be better stronger and will have more features as time goes on.GrooveSell is one of the tools you get when you sign up with GrooveFunnels. Right now you can get it completely free, including GroovePages as well.
Remember you can sell digital but not physical products. It allows you to create your product, the upsells, and the downsells, same as connecting your check out pages.
GrooveSell has an Affiliate Marketplace Like ClickBank Or JVZoo it's a great way for you to have other affiliates find your products. This helps you to build an army of affiliates and grow your business with increased sales!
GrooveAffiliate
GrooveAffiliate is part of GrooveFunnels. It's a World-class Affiliate Marketing platform to help you build an army of affiliates. Let affiliates promote your products with GrooveAffiliate (includes a powerful dashboard)
GrooveAffiliate is very easy to navigate, and it's free to use. It's a great marketplace where you can sell and promote your digital products with the help of affiliates. It's a flexible affiliate management tool for businesses and online marketers.
You can recruit affiliate marketers to promote your online course or software product, for example, you can use GrooveAffiliate to manage every aspect of it.
For Example,
GrooveAffiliate so let's just say that you now designed your pages with Groove pages, you created your products with Groove sell and you started selling them but to promote it you can also create the affiliate system which means you will invite other people so that they take a link to be able to promote your product.
So this is very strong and very powerful in marketing to create a viral effect so it will not only be you who will be selling the product but instead of one person it will be selling like multiple different people and they can make a bit of commission on selling your product.
They can help you out in returns of a commission so this is what GrooveAffiliate does and it compares to TapAffiliate which is a different platform from a different company
GrooveMail
GrooveMail is just one part of an amazing suite of products called GrooveFunnel.This is unlike any other Email marketing software. No need for expensive fees or long complicated setup processes.
This makes it's extremely easy to set up and manage all of your Email lists and Campaigns.
GrooveMail is a world-class email marketing solution CRM with tags for automation, sequence automation, broadcasting, text and voice broadcasting, voice SMS broadcasting and the traditional mail features you'd expect and need.
GrooveMail is everything you'd expect in a world-class email marketing solution. You will get 10000 contacts for life.
The thing about GrooveMail is it comes with a paid plan only. No matter what plan you have, you get to mail 10000 contacts for FREE. Migrating a list and Import Leads Into GrooveMail is also pretty simple.
Example:
Groovemail will be coming out very shortly (May Be Sept 14) it will be used to send multiple emails at once let's just say that you have a list of interested buyers.
Marketers call them leads you to have a list of leads that want to purchase your product here from you again and things like this you will be able to put this list into Groove mail and send out an email to everybody
And not only that you'll be able to automate this email so on day one send them this email on day two send them this email on day three send them another email and you can do this automation and things it is much more advanced than what you can expect.
GrooveMember
GrooveMember is designed to help digital marketers set up and run a full-blown membership site. It's a Membership Content Management System and online course platform, so you can host your courses, membership sites, virtual summits and any other content
The digital content in a secure password-protected member's area. Create fantastic customer experience with the drag-n-drop ease, easy to publish posts (all built-in) with hosted content at your fingertips that Groove is known for.
You can also drip content (and it includes beautiful themes and more).GrooveVideo will also come in handy in building a membership site.
If you don't want to use GrooveMember, GrooveFunnels will integrate with every other knows platform on the market if enterprise needs are needed.
Examples:
Create Memberships and basically this is a system of delivering your products let's just say you are selling a course and your course is set up inside a Groove member platform which is a membership where the people that purchased access to this course they need to log in and then they can see the modules you've probably seen already courses online you had to register for it or log in
And then you go into a membership area in a platform which has like course one or module one of the course module two module three then you click on that then there are different chapters and videos and posts and things like this so this is what Groove member will be able to do,
Groove video
Groove video is a strong marketing platform. GrooveVideo turn any video you create into a powerful marketing tool with view automation, lead capture and social sharing to unlock content (think about Wistia or Vimeo).
It's like having your own built-in Wistia or Vimeo. It will have player skins, player controls, autoplay etc. Plus you can add tags and calls to action and more. It will even have split testing and analytics.
For example
Sales videos like you probably seen already sales videos on a page on a landing page you come on there and you see people explaining what their product is or they do these cartoon animations of explanation explained videos of products so this is something
Groove video will be able to do but the distinction is that you can do tagging and automation from Groove video like in case somebody watches 25 of the video show them a button and send them this email through Groovemail these things you will be able to automate using
Groove video and it will be very powerful it is already out

GrooveKart
DRAG, DROP, PUBLISH, PROFIT
GrooveKart is an eCommerce platform to compete with Shopify.
Its a powerful E-commerce platform.GrooveKart has more powerful standard features than the leading platforms like Shopify at one insanely low price.
GrooveKart was Made For Print-on-Demand and Drop-Shipping with All These Platforms Built Right In. It's made Easy To Find Hot Selling Products!.
Of course, they have all the features any platform should have. This can sell your products with variants like size and colours, It has categories, powerful reporting, analytics intelligence, customer lookup, powerful shipping features, powerful Free Native apps, a built-in support desk, customize your look and feel, and world-class support.
You get our high converting check-out template, pre-transaction upsells, order bumps, urgency timers, scarcity, social proof, reviews, funnels, upsells, downsells, bumps, retargeting, analytics, and more advanced shopping cart features.
You can also integrate GroovePay for easy merchant options.
They Made it Easier. GrooveKart's user interface is so easy even beginners are absolutely loving it. Fire your tech support team. No web developers needed. They are a true plug and play solution.
If you're already used to Shopify or you plan to switch to a better option, you might want to consider GrooveKart. No confusing feature grids. Buy today and get all the powerful platinum features.
They make it easy to make the switch from Shopify.
Just enter your credentials and then chose what products and categories you want in your GrooveKart store and click a button. In just minutes you'll have your store imported. They guarantee better sales, conversions, and satisfaction with GrooveKart over Shopify or your money back.
Shopify charges you MORE for LESS. They also take up to 2% of your sales on top of their monthly fee. Does that seem fair? They don't think so. The average successful Shopify user is also paying hundreds of dollars a month for 3rd party APPS that come FREE and STANDARD with GrooveKart.
With GrooveKart you can pay under $42 a month for what may cost you over $500 a month with Shopify. Everyone's making the switch. You should too.
It comes with a one-time deal. In case you are on the free membership, you will be able to register to GrooveKart as well later on.
GrooveKart will be having a freemium option as well so it will not be a full platform like for the paid members but it will be a freemium option which will have some limits on it but more information will be released on that later than these are the future GrooveFunnels suite of tools.
For Example, You sells sofa you can design and most people can click on this sofa it sees the pictures see the descriptions and then things like this.
GrooveWebinars:
GrooveWebinars (Automated and live webinars using the advanced streaming technology. Run meetings, classes or sales presentations with ease).
Mike Filsaime has been in the webinar software industry for years. Mike was a key part of creating WebinarJam and EverWebinar. He's now adding GrooveWebinar to give you better webinar hosting options.
GrooveWebinar is just one part of an amazing suite of products called GrooveFunnels.GrooveWebinars allows you to create and host Live or Automated evergreen webinars. ​ Boom
If you're familiar with WebinarJam and EverWebinar, it'll be like those (but built-in at no extra cost). And it will all integrate inside one system, and include live streaming like Belive.tv and StreamYard.
GrooveWebinars integrates with all your pages, cart and funnels to maximize your sales. You can be among the first to get access to GrooveWebinar with a free GrooveFunnels account.
GrooveDesk
This is customer support or helpdesk software.
Your helpdesk should be integrated with your sales system. Instead of duct-taping together two solutions, This is part of the GrooveFunnels suite, so it's easy to look up customer history and manage transactions.
Groove desk for creating your own help desk for helping support your product and support questions and answering questions on for your product. Support, engage and delight your customers with the built-in help desk.
It will include team inboxes, ticket management, live chat, and more.
GrooveDesk is just one part of an amazing suite of products called GrooveFunnels. You can be among the first to get access to GrooveDesk with a free GrooveFunnels account.
GrooveCalendar
Schedule meetings. Sell consultations. Create open office hours. Set a series of events or recurring appointments. Manage rescheduling communications with ease.
GrooveCalendar makes it easier for your leads to schedule meetings with you. The hassle of 5 emails back and forth to set date are over. Set which dates you have available. Your prospects choose which slot suits them, and voila! Appointment set.
GrooveCalendar is just one part of an amazing suite of products called GrooveFunnels. You can be among the first to get access to GrooveCalendar with a free GrooveFunnels account.
Example:
GrooveCalendar will be a booking platform similar to calendly like you sold a service then you can give your visitors a booking calendar they can choose the dates they can go on there book an appointment with you or things like this so this is going to be very powerful
Improve your messaging, products, and more by gathering and analyzing feedback with GrooveSurvey.
GrooveSurvey is just one part of an amazing suite of products called GrooveFunnels. You can be among the first to get access to GrooveSurvey with a free GrooveFunnels account.
GrooveSurvey and GrooveQuiz is also here is going to be used for creating questionnaires and quizzes and all kinds of different things which will be connected with automation with all the other suite of tools so this is going to be powerful
GrooveProof
They built GrooveProof which is a little widget a little pop-up that comes up normally on the pages you've probably seen these before they are used to prove that somebody else purchased or somebody else signed up or somebody else did an action on this side
So that the people the visitors that when they come over there they don't think that they're alone in this that other people are also using it other people are interacting with it with your products with your company and things like this
Conclusion
So now we know what GrooveFunnels are what the other suite of tools are but what can you do with it so you can actually if you have a product you can set up your product in GrooveSell and set up the payment gateway set up the process what happens after somebody purchases the product maybe send them an email or things like this and then you can design your pages like you can design a landing page your sales page with GroovePages
Now you can sell your product in a visible way which is a sales page on an internet site you can have the product delivered which you set up in GrooveSell
And you can automate this so you create a sales machine that is online working for you 24 hours so you don't have to be there answering calls answering emails it is actually automated because it is online and it is working for you
When even when you're sleeping so this is very powerful and this is why online businesses have more success than some of the local businesses because the internet is a very helpful tool it helps automate things helps them run without any hurdles any hard tasks to do once you set it up it can be left alone
And you can just work on your business, not inside your business so this is something that GrooveFunnels is working on to do more automation more powerful integrations with all kinds of different things so that the speed basically so that you don't have to spend so much time working on setting up everything but you can help your customers that you actually sell sold to so this is the kind of a goal of growth
The GrooveFunnels is Free For LifeTime (with Limited Options).
There is an option to Platinum Pro for LifeTime (Paid Version)
Why I am Upgrade to GrooveFunnels:
Within the Groove platform my first impressions with Groove really after I logged in was that it did seem a little over-complicated and I don't say this in a negative way I mean from I guess the standpoint of just after signing up and not knowing exactly what Groove is all about.
I guess that's where the complications sort of started but as you kind of go along under each of these navigation tabs you do kind of get a feel for what it's about and what it can do so. Loves GrooveFunnels
I did play around with this with my demo account. Just for transparency, I did take up on their lifetime offer which they are currently offering which is at the moment quite a good deal in my opinion because they do plan on charging on a monthly basis for these upgraded features pricing right off the bat for a lifetime.
I did mention that I did upgrade to a lifetime account which means, of course, I will be using GrooveFunnels and its suite of products and services for many things that I'll be running my business in the future.
I won't use all the tools just yet because I am still waiting and making sure that there are no bugs or things that need to be fixed first. So that I can run my business and put all my products and host it with groove funnels.
But what really attracted me to sign up to GrooveFunnels is that you don't need any third-party tools or additional recurring subscriptions for these additional tools so in the future I will be using GrooveFunnels for my products if not all of them may be at least some of them.
👉GET UPGRADE TO PRO
What Are You Waiting for ?
30 Day Money Back Guarantee No Question Asked! You've got nothing to lose. Try It Today And You'll Also Get The Following Bonus Bellow!
My Recommendation
Do I recommend you sign up to G
rooveFunnels
well at the moment it is free for its
base plan and really there's nothing to lose and you can create up to three pages?
I also do recommend you
upgrade because at the moment it's
probably going to be the cheapest.
It
will ever be and if you don't want to
get charged on a
monthly basis then this is a great
option all right so that's my take.
GrooveFunnels: Pros and Cons
PROS:
Easy-to-use landing page tool
Unlimited Funnels And Pages
No Hosting required
Share Funnels with other users.
Pre-Done Modern Design Pages
Creating funnels is quite easy
It's an all-in-one marketing suite
GrooveSell helps you sell your products easily
No need to spend additional money on third-party tools.
Affordable at One Time Price
30-days money-back guarantee
CONS:
It requires a learning curve
It can be a bit daunting for beginners (especially with all the tools included)
There are still bugs as the GrooveFunnels is in Beta stage
Not all tools are available yet
All Cons Mention above solve by within a few month's by Groove Teams.They will deliver what they promised.
What Is The Difference Between GrooveFunnels And Kartra?
Mike Filsaime was the co-founder of Kartra, WebinarJam and EverWebinar. Whilst in development, Mike brought in a new partner and they had "creative differences" (let's just call in this for the moment).
Mike took a buyout which included a 2-year non-compete clause. Since then, Mike and his partners used crowdfunding to raise almost $2 million to build this brand new platform in 1 year (what took 7 years previously).


Kartra (to this day) still licences old "outdated" page builder technology. It is clucky to edit large pages and is not Mobile-First indexing. Groove Funnel has a more robust Sales and Affiliate Platform as well.
They're more affordable and have a better development team and vision. Kartra is good, and will always be Mike Filsaime's "first child."
But getting to do it again, they were able to use a new and 10x better framework for everything. This platform is far superior in every way – period! They'll also have an SDK to allow others to develop for it as well.
(For the same reasons which made the iPhone, Android, WordPress, Chrome, Firefox and Shopify so great, will be the same as us).
What Is The Difference Between GrooveFunnels And ClickFunnels?
ClickFunnels is a great company with a great leader. They do one thing well which is "funnels".GrooveFunnel also does this but in a far superior way.
ClickFunnels is older technology with slow loading pages. They don't build brand websites, do email marketing or have an affiliate program (apart from their own).
They cost a lot more and they are not as easy to use as GrooveFunnel platform. To have the Funnel feature offer you have to pay ClickFunnels $299 a month. And to get all the other apps from somewhere else, you will be paying over $1400 per month
(for what Groove Funnel start at only $99 in the future but now its one time offer for a lifetime).
There's no comparison! GrooveFunnel is the best platform for digital marketers by far. Now you know, and soon the world will know as well.
Others App & Services of Groove Funnel
Groove users will be able to sell their designs in the GroovePages Marketplace.
What Are The Groove Marketplaces?
https://groovemarketplace.com/ is a place where you'll find things for sale by other GrooveFunnels and GrooveKart users. It is new and will include templates, blocks, designs for Print on Demand and more!

Groove App Store &

Groove Developers
Similar to WordPress plugins, iPhone apps, and Chrome extensions, They're opening up so people can develop apps for the platform. This means that you will not have to wait for cool features or things that may not be part of our vision
Groove API & Documentation
Groove will have API and documentation available for it so you can integrate with other software and services you may currently use.
Better Merchant Processing.
Finally, better, more affordable merchant processing for online businesses. If you are tired of paying a premium for your merchant services, apply for a GroovePay account today!
GroovesAds
GrooveAds is a full-service advertising agency, specializing in Facebook, Google and YouTube advertising. Full service means that in addition to creating and managing your advertising, They can also build and conversion test your funnel.
Live Events
Groove has several opportunities throughout the year to gather for live events. All 2020 Events have been cancelled as There are social distancing.
Updates about new dates for 2021 coming soon.
Learning Resources and Support
GrooveDigital Academy
Here's your resource for marketing training, webinar replays and courses. All Groove members can sign up for a free account.
There is live training at 6 PM Eastern every Tuesday for GrooveFunnels and Thursday for GrooveKart.
GROOVEFUNNELS PLATINUM LIFETIME UPGRADE:
They are two plans now
1.GrooveFunnels for Freemium
2.GrooveFunnels For One-time payment of $1897 for Life Time
Just with new payment options.
CHOOSE FROM DIFFERENT PLAN:
GrooveFunnels FREE:
With the Base plan (Free), you get all of these features:
GrooveSell
GroovePages Lite
GrooveAffiliate
GrooveFunnels Paid Plan You will get all GrooveFunnels App for LifeTime and Future Update:
👉GET UPGRADE TO PRO
What Are You Waiting for ?
30 Day Money Back Guarantee No Question Asked! You've got nothing to lose. Try It Today And You'll Also Get The Following Bonus Bellow!
Different Payment Plans:
$0 Today Free, For LIfetime (Limited Options)Or the just 4 easy monthly payments of $497 starting in 14 days.Or just 6 easy monthly payments of $388 starting today.Or just 12 easy monthly payments of $249 starting today.

After these payments, you own GrooveFunnels for LIFE and will not need to pay monthly ongoing payments.

If not you can pay later starting at $99 a month in perpetuity.
See right below for more info or just click the link BELOW.

HOW TO BUY
STEP 1 – Go here to get GROOVE FUNNELS FOR LIFE (Upgrade to all future products.)
https://groovepages.com/lifetime-upgrade
WHAT YOU GET with your upgrade to GrooveFunnels
GrooveFunnels Review – Amazing Bonuses
Remember once gets GrooveFunnels you will receive massive bonuses from the creators in the member area.
——————————— Important Links ———————————
https://www.groovefunnels.com/infographic
——————————— ALL OTHER F.A.Q. ———————————
Who Is Behind the GrooveBrand?

You can see the founders at http://GrooveDigital.com

What Is GrooveDigitalAcademy And Does Everyone Get It?

Yes. This is a membership platform where we host all of our GrooveFunnels and GrooveKart training (as well as all training replays). They do live training every Monday through Thursday and it's free for everyone.

How Do I Join GrooveDigitalAcademy?

Just go to the site at http://www.GrooveDigitalAcademy.com and create a free account.

Where Do I Get Support?

You can get the very best support at http://GrooveSupport.net

Does Company Have A Toll-Free Support Number?

Yes. 1-800-901-8124 or 1-844-GROOVE-1 (1-844-476-6831)

Where Do I Report Bugs And Request Features?

https://feedback.grooveapps.com

Do You Have A Facebook Group?

Yes. It's at http://GrooveDigitalFB.com

Do You Have An Affiliate Program For GrooveFunnels?

Yes you can log into your main dashboard and click on "Partner-Program" in the top right-hand corner and it'll take you right to your links ( or you can signup at http://GrooveJV.com )

Do You Have An Affiliate Program For GrooveKart?

Yes, and you can locate it at https://groovekart.com/jv/

Do You Have An Affiliate Program For GroovePay Merchant Account Referrals?

Yes, although there's no link. You just refer them to us. For more information sign up here: